Video calls are way more effective than traditional phone calls. Nowadays, people have started adopting new technologies in their daily lives to make their routine tasks simpler. Most organizations and even educational institutes have started using video conferencing software to organize and carry out their meetings.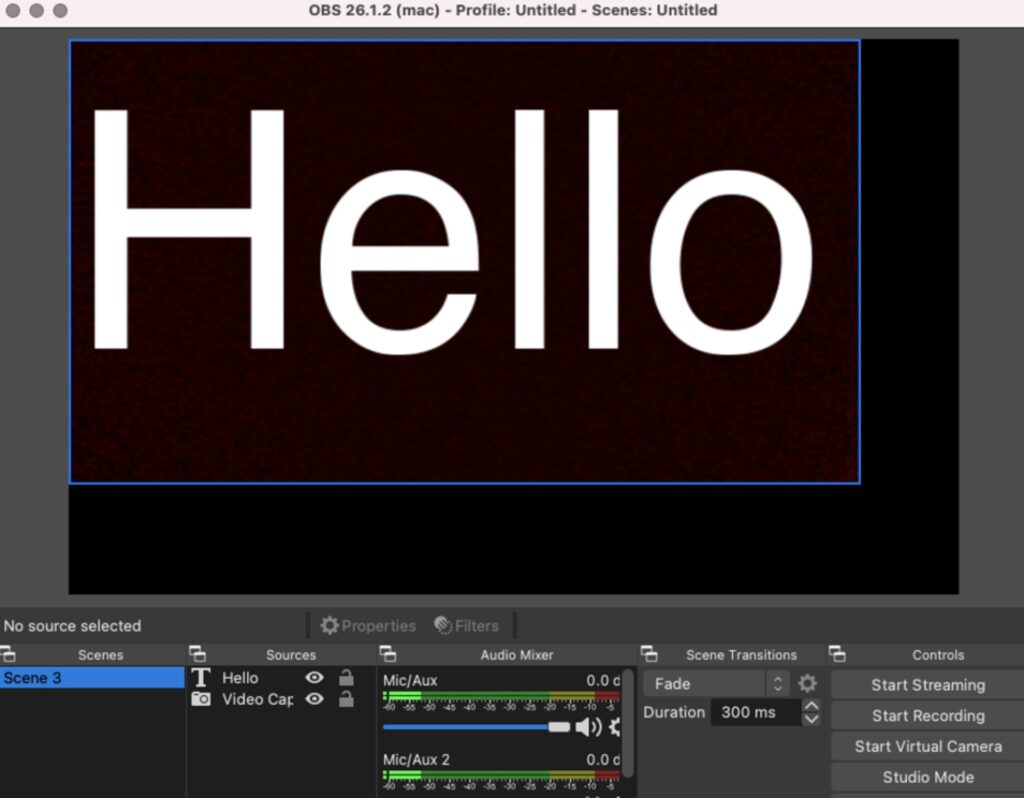 If you are looking for the perfect video conferencing solution that works well with programs such as Skype as well platforms like Zoom, Microsoft Teams, google meet, and other online video conferencing platforms for your computer system, then OBS Virtual Cam is for you.
The need for video conferencing software and apps is an ever-growing industry, especially due to the backlash of the world-wide COVID 19 pandemic, more and more people are working remotely and these people need to be able to communicate quickly and easily, a video source is crucial to do this successfully.
If you are engaging in daily video calls or video conferencing, then you should know about the importance of using a Virtual Cam and the functionality on offer from such software.
---
What is a virtual camera?
A virtual camera is a digital tool that lets you use your computer's resources in a live video call or conference. Instead of using the built-in webcam on your computer, a virtual camera allows you to share your screen or any other application that you want to share with others, without actually being on camera.
What's interesting about the virtual camera is it lets you use various effects and animations, you can also use picture-in-picture windows or can share different windows with your audiences. You can add 3D effects, can change your background setups much more with the help of a virtual camera.
For example, during a business conference call, employees may be presenting a project to a client, but not have access to a webcam or are too shy to be on camera or they don't want their background to be visible, a virtual camera allows you to attend a video conference call and present work with clients without actually having to use the camera.
If your computer system doesn't have a webcam, with the help of a virtual camera, you can still use video conferencing to show your work, presentation, and more. Those of you who don't want to come in front of the webcam can use it to display a different screen.
---
How does a virtual camera work?
A virtual camera works as an independent tool to control the main camera system of your computer. The camera works with multiple add-ons that make the camera more efficient for the users.
Virtual Cameras are used by professionals where a 3rd person view is required. For that reason, it is highly used by professional video composers or in video conferencing to display something else and not the main person.
The need for a virtual camera and its related software is increasing day by day. Let's see how a virtual camera is beneficial to you.
The benefits of using a virtual camera
Most professionals now use video conferencing software to organize online meetings with their employees or workforce. In today's times, schools and colleges are using video conferencing software for communicating, with students being able to log on daily for scheduled tutorials as opposed to face-to-face lessons. If you are a shy person, then you could simply use the virtual camera without showing your face.
Using a virtual webcam comes with several benefits that are listed below:
● Built-in Video Recording Feature
● Supports Multiple layers
● Extra tools to make the video conferencing more creative
● Improves engagement with the audiences
● Change background automatically
● Unlimited customization with third-party add-ons and more
---
How do you improve the camera and stream quality through a virtual camera?
Most computer systems come with a built-in webcam that lets you make video calls using different applications. The built-in webcam and the application to control that camera comes with limited features and functions.
You can't customize things as per your needs and for that reason, most people love to try out third-party applications. The reason behind the increasing popularity of Virtual Camera is it comes with a dozen of extraordinary features and tons of customizable options that make your video calls and online meetings more professional.
Moreover, the Camera works well with all the popular video calling and video conferencing tools. You can integrate it with these platforms to start making quality video calls with many useful features and functions.
To make video streaming more exciting, video streamers use multiple cameras. With multiple camera setups, streamers can use different angles to show off their work in real-time recorded or streamed on different devices. A virtual camera lets you set up multiple cameras for video conferencing and live to stream.
The Virtual Camera is not there for home users, but professionals also use this software. News Studios, Movie Producers, and many other professions have started using the OBS software.
Besides this, with the help of this camera, a streamer can change his background. No matter whether you are sitting in a drawing-room or a restaurant, you can instantly change the background of your screen on a virtual camera. There's an option to replace the existing background with the image or the scene that you want to run in the background while streaming your video.
In a nutshell, the opportunities are endless and you can make the best of video calls or can organize professional meetings and conferences from anywhere using a virtual camera.
---
What is OBS?
OBS stands for Open Broadcaster Software which is a free open-source virtual camera software used for video conferencing and live streaming. The software is used for recording a live video with clear audio.
This feature-rich tool is designed for Windows, Mac, and Linux computer systems. The best thing about this tool is it is available for free. Anyone can install and try out this virtual camera and its features for free.
Since the number of users of this software is increasing, the software is receiving regular updates from the developers. New updates bring new features and functions that make video conferencing and live to stream your videos more efficient.
---
What is Streamlabs OBS?
Streamlabs OBS is an all-in-one live streaming software designed for video creators and professionals who organize frequent conference meetings. It's an advanced version of the standard OBS software. And comes with a ton of extra features to make your live streaming more professional.
Unlike the standard OBS Software, the Streamlabs OBS packs with advanced functionality and features. We can say that the Streamlabs OBS is an advanced version of the standard OBS Software for video broadcasters. This software serves a better user-interface that makes your video broadcasting experience more familiar and easy.
Created with streamers at the forefront, Streamlabs OBS is a service filled with features to improve the visual appeal of your Twitch stream and enhance viewer engagement. The software also works beyond Twitch as well. Let's talk about the performance of this software.
Streamlabs OBS performance
Streamlabs OBS Software is designed for professionals as it packs with advanced tools and features that are not available on the standard OBS software. It comes with an enhanced user-interface that enables you to use the available tools to enhance your broadcasting experience.
What makes this software more popular is it lets you explore a variety of themes that you can use while streaming your video. Explore the list of the available themes and select the one that suits well with your profession.
Moreover, Streamlabs OBS software offers a dozen extra features. The features are packed with the software and you don't need to buy them separately.
Streamlabs OBS free-to-use features
Alerts
The software sends you real-time alerts that keep you well-engaged with your audiences. You can enable or disable this Alerts feature or can customize it as per your needs from the Settings menu of the software.
Widgets
Streamlabs OBS Widgets can be integrated with YouTube, Twitch, and many other online streaming platforms. While streaming a video, you can keep a widget in a corner and keep running the main screen. The widget feature is quite useful for professional broadcasters to present something to their audiences.
Text-to-Speech
The software also comes with a built-in text-to-speech feature that lets you read aloud texts. You can enable or disable this feature as per your requirements from the Settings menu as it is there as an extra feature.
Themes
As noted above, the software offers plenty of themes that you can use to make your broadcasting look more creative. You can change the theme from the Themes section to convert the environment of your video.
Streamlabs OBS is an advanced software designed for professionals with even more features and functions than the OBS. It's a premium software for YouTubers and those who live stream on the web. The software also supports a variety of tools that lets you expand your profession through live streaming, event organizing, presentations, live conferencing, and more.
Besides this, companies can build software based on OBS as it's an open-source tool. Developers can integrate this software with their existing system software to make things easier.
The software supports over 46 unique apps that let you customize your video streaming. You can make the most of this software by using these compatible applications with the software.
Being an advanced video broadcasting software, Streamlabs OBS doesn't require pre-configurations. Once you finish the installation process of this software, you will not be asked to manually configure it with your system. You will be presented with the Dashboard that lets you use different tools and features for a reliable video streaming experience.
Streamlabs Prime:
For beginners, Streamlabs OBS is there for free-to-use. Beginner streamers can download and install this software for free with its limited features. However, professional streamers can go with the Pro version of the software.
The Pro version gives you access to use Pro effects and GIFs with a bunch of extra tools that you can use while streaming a live video. The Pro version membership starts at $5.99 per month.
---
How to setup OBS camera?
Note: Here we have prepared this installation tutorial on a Mac system. You can follow the basic instructions to install it on your Windows system. There are no special skills or additional tools required to install this software either on a Mac system or Windows system.
The OBS Camera is now loaded with more features and functions to give you the best viewing and streaming experience for both Windows and Mac PC systems. With the built-in screen recording feature, you can also record the screen and can export it to your desktop, so whether it's a work call or a live tutorial you won't need to worry about missing out on any information.
Go to the official website of OBS Camera. Download the installer file of this camera for your Mac system. Click the Download Installer option to get the setup file of this tool.
---
How to setup OBS scenes and add resources on Mac?
OBS Camera allows you to add and use multiple scenes that you want to show to your audiences. Since it's open-source software, you can add external add-ons to improve its efficiency. An advanced scene switcher add-on is there to change the scenes automatically.
The Advanced scene switcher plugin works well with Mac, Linux, and Windows operating systems. This add-on allows you to change the scenes automatically.
What is a scene in OBS?
The scene is nothing but a layer. You can add multiple layers to display different scenes to your audiences. First, you need to set up the default scene on this software.
When you launch the OBS Software on your system, the default scene will be the first to display.
Launch the OBS Software from the applications folder. At the bottom left side, you could see the sources section. Click the + button to add your first source here. From the given menu, select the video capture device option. Select your Mac's webcam from here. The list will show you the available devices such as your iPhone, iPad, etc.

Once the scene is created, you can easily resize it the way you want. Since you are sitting in front of your system, whatever the camera is displaying to you, the audience will see when you stream.
Now, to add a second scene, click the + button given in the Scenes section. You will be asked to give a name to the scene that you want to create. After that, you can add a resource for that scene from the resources section.
This time, you will be given the option to add existing. Select this option. To make changes to this scene, just select the scene name from the Scenes section and click the + button. If you want to add text, just select the Text option and type-in anything you want.
Follow the same steps to add one more scene here. Click the + button from the scenes section, give a name to that scene and add resources from the resources section.
You can manage multiple scenes on OBS software by using an advanced scene switcher add-on. Or can select the scene that you want to show from the scenes section manually.
You can add a suitable resource for the scene from the resources section. Just select the scene from the scenes section and the + button from the resources section. You could see the list of available resources that you can use for a particular scene.
Select the suitable option from here. This is how you can add resources to your scene. You can add extra add-ons as resources to your OBS Software if you want to use it professionally.
---
How to Use OBS for video calls?
Most organizations and educational institutes are using OBS software for conducting meetings and conferences. You can use Zoom, Microsoft Teams, and many other video calling applications on OBS Software. Let's see how you can use OBS with Zoom Meeting.
Requirements:
● OBS Studio- Latest Version
● Zoom Application
Note: If you are using the older version of OBS Studio software, then you need to update it to its latest version. The latest version comes with a lot of improvements and new features. It also includes a virtual camera to make video calls and live conferences.
Step by step guidelines to use Zoom with OBS Studio
OBS Studio's latest version now includes the Virtual Camera add-on. This means you don't need to download and install this tool manually as it comes included in the latest version of the software.
Since you have created multiple scenes and added suitable resources, you can now make use of the Virtual Camera of OBS Studio with Zoom, Teams, and other video calling apps.
Open the OBS app by clicking on the Applications folder and selecting the OBS icon from there.
On the right side of the main screen, you could see an option Start Virtual Camera. Click this option to start the Virtual Camera of the OBS Software.
To configure the system's audio settings, select the Settings option from the right sidebar and then select the Audio option from the presented Window. Make necessary changes to the Audio Settings option and save the settings by clicking on the Ok button.
Now, open the Zoom app from the Applications folder and click the New Meeting option. You can also join the live meeting by switching to a Virtual Camera from the Zoom application.
Select Video Option from the Bottom Left Corner of the Window. From the given list, select the OBS Virtual Camera option.
You're done now! You can see the OBS Screen on the Zoom application now. As soon as you change the scene from the OBS app, it will be changed on the Zoom app as well. The recipient will see what you are showing through the OBS app.
This is how you can use Zoom Meetings with OBS Studio software on your Mac system. In the same way, you can use the Teams, Google Hangouts, and other video calling apps to organize live meetings, conferences, tuition classes, group calling, and more.
Since OBS Camera is compatible with Windows and Mac systems, most broadcasters are quite familiar with this virtual camera as it is available for free. What's unique about this camera is it is compatible with almost all the video broadcasting platforms and apps that you can use on your computer system.
Just like the Zoom app, you can use it on Facebook, YouTube, Twitch, and many other video broadcasting platforms to show off your creativity. The software also supports a wide range of resources such as multiple camera angles, scenes, video transitions, effects, audio mixing, external add-ons, and more. All these features are readily available for you for free.
Conclusion:
That's all you might want to know about the virtual camera. OBS Studio gives you the flexibility to use multiple layers as scenes, different resources, external apps support, and more. Moreover, the ability to add filters, effects, fonts, and more makes it even more special for those who are professional video creators.
What you can do here is follow the given guidelines, install the latest version of the OBS Studio on a respective Mac system. Set up your scenes with resources and start making video conferencing or video calls with an innovative way to amaze your audiences.